PLACE
Thursday April 8, Tallaght Stadium
LOOK
Live coverage on RTÉ Player from 6.30 p.m.
TO FOLLOW
Live blog on RTÉ.ie and the RTÉ News app from 6 p.m.
BUILDING FOR THE FUTURE
They might be the same manager and pretty much the same team that missed the European Championship play-offs last year, but it still feels like the start of a new era. , as Vera Pauw begins to prepare to qualify for the 2023 World Cup campaign.
Pauw's decision to stay with the Ireland squad and sign a new two-year contract is a huge vote of confidence not only in her work, but in the continued development and growth of women's football in Ireland.
Having raised both the profile and the level of the national team during the last qualifying campaign, there was a feeling that Pauw would have left the job unfinished had she chosen to leave, but instead of this she is now looking to take Ireland to the next level.
That work begins in earnest this week with friendlies against Denmark, followed by a trip to Belgium ahead of the qualifying draw on April 30. Rather than fielding friendlies against smaller, more beatable teams, Pauw wants to test his team against the best.
"Denmark are a fantastic opponent for us in this international friendly match," she said. "They are ranked 14th in the world, have great players and are a team that will test us."
SQUAD DEPTH SEARCH
While Pauw has appointed a familiar-looking squad for friendlies with Denmark and Belgium, she's also throwing her net wider than usual in order to find and hopefully lay down in new blood.
Pauw's extended squad invite four eligible players to declare for Ireland as coach insists they don't put any pressure on them, she hopes a taste of life in the Irish team will convince them.
In the training squad came Florence Gamby of the London Bees, Lily Agg of the London City Lionesses and Emily Murphy of Chelsea, but currently on loan at Birmingham. Glasgow City's Aoife Colville was also due to sign but withdrew.
"We all have this undying passion for the Irish team" – @ louise_quinn4 aim for the World Cup, report @Corktod #RTESoccer #RTESport pic.twitter.com/sz1hprkcjp

– RTÉ Football (@RTEsoccer) April 7, 2021
Although the newcomers will not be eligible to be part of the squad on match day, Pauw hopes that simply bringing them to live life within the Irish setup will influence them.
Elsewhere, injuries mean Megan Campbell, Leanne Kiernan and Clare Shine are all missing, while Julie-Ann Russell and Nicole Douglas have been unable to join the team due to Covid-19 restrictions.
"This team is so determined," said Pauw.
"And this team develops the qualities so much and it becomes clear what we need and what we need to add and how and how to approach things that even without having activities, we played better every game.
"I expect this to continue to grow."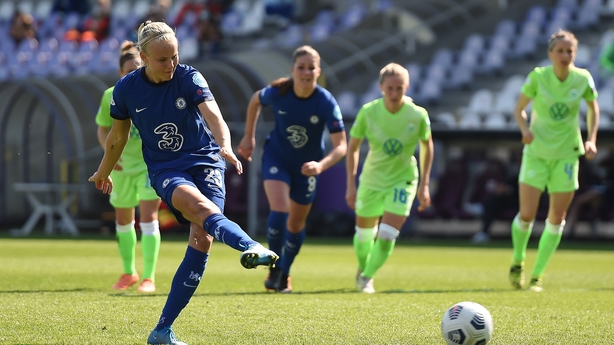 DENMARK OFFERS A MAJOR CHALLENGE

When Pauw talks about testing his team against the best, it's not hyperbole. Denmark are one of the strongest teams in Europe and will let the Irish coach know where his squad are at the moment.

Qualified at the top of their group for the European Championship, the Danes have lost only two points over their entire campaign with nine wins and one draw. This singular fault came against Italy in their last group game with a qualification already confirmed.

A team made up mostly of Scandinavian players, with a pinch of those plying their trade in the English, French and Italian leagues, the Danes have a strong backbone as well as some of the most exciting players in women's football.

Their squad star and the women Ireland will need to be most wary of is Chelsea's Pernille Harder. Her move from Wolfsburg to Chelsea last September reportedly saw her become the most expensive transfer in world football and she was named UEFA's Player of the Year in 2018 and 2020.

In a powerful offensive frontline, Ireland will also have to worry about the experience of Nadia Nadim, who is enjoying some sort of renaissance at Paris Saint-Germain, after a disappointing stint at Manchester City.

Manager Lars Sondergaard also has some very promising young midfielders to appeal to, with Fortuna Hjorring duo Emma Snerle and Olivia Holdt.

Ireland team

Goalkeepers: Courtney Brosnan (West Ham United), Marie Hourihan (SC Braga), Grace Moloney (Playback)

Defenders: Keeva Keenan (Celtic), Claire O'Riordan (MSV Duisburg), Louise Quinn (Fiorentina), Niamh Fahey (Liverpool), Diane Caldwell (North Carolina Courage), Claire Walsh (Peamount United), Niamh Farrelly (Glasgow City), Áine O'Gorman (Peamount United)

Midfielder : Megan Connolly (Brighton & Hove Albion), Denise O'Sullivan (North Carolina Courage), Ellen Molloy (Wexford Youths), Jamie Finn (Shelbourne), Hayley Nolan (London City Lionesses), Ruesha Littlejohn (Birmingham City), Emily Whelan ( Shelbourne), Alli Murphy (Lionesses of London City), Katie McCabe (Arsenal)

Forward: Rianna Jarrett (Brighton & Hove Albion), Amber Barrett (FC Cologne), Heather Payne (Florida State University), Kyra Carusa (HB Hoge).

Denmark team

Goalkeepers: Kathrine Larsen (Djurgardens IF), Lene Christensen (KoldingQ), Katrine Svane (AGF)

Defenders: Rikke Sevecke (Everton), Sofie Svava (FC Rosengard), Sara Holmgaard (Fortuna Hjorring), Simone Boye Sorensen (Bayern Munich), Sara Thrige (Fortuna Horring), Luna Gevitz (BK Hacken)

Midfielder : Olivia Moller Holdt (Fortuna Hjorring), Nanna Christiansen (Brondby IF), Sanne Troelsgaard (FC Rosengard), Emma Snerle (Fortuna Hjorring), Sofie Junge Pedersen (Juventus), Kathrine Kuhl (FC Nordsjaelland), Josefine Hasbo (Brondby IF), Katrine Veje (FC Rosengard)

Forward: Pernille Harder (captain) (Chelsea), Nicoline Sorensen (Everton), Frederikke Thogersen (Fiorentina), Caroline Moller (Internazionale), Nadia Nadim (Paris Saint-Germain), Signe Bruun (Paris Saint-Germain), Stine Larsen (Aston Villa) )


[ad_2]

[ad_1]